Ushering in the Year of the Ox, Creating for the New Future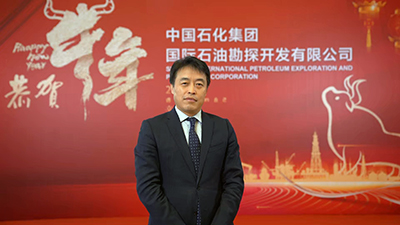 This Lunar New Year of the Ox is of a special significance to China and the world. The sudden coronavirus pandemic has posed a lot of challenges for the globe. Our life has changed greatly by COVID-19. Although SIPC employees are in different countries, we could still meet online and extend our best wishes for 2021 with the auspicious and energetic meaning of the Chinese ox.
The ox, in traditional Chinese culture, is a hardworking and honest zodiac sign that signifies the pursuit of a better life through diligent work. 2020 was an extraordinary year. We are looking forward to bringing about radical change and embracing the future in the year of the ox.
Given the spread of COVID-19 and historical low oil price, our company is facing severe challenges. Under the excellent leadership of SINOPEC Group, all SIPC employees worked hand in hand to overcome the impact of the pandemic and made great achievements in coordinating prevention and control, resumption of production and met all the adjusted targets. SIPC successfully turned the challenges into opportunities, all of which have gotten remarkable reward from SINOPEC Group.
At the beginning of 2021, the annual work program conference of SINOPEC Group carried out its middle and longterm deployment of the 14th Five-Year Plan and also formulated the blueprint for SIPC. In accordance with the vision of "building a world-leading company in clean energy and chemicals," SIPC will accelerate high-quality development. In 2021, we will continue to focus on cash flow, optimize the investment and production structure, adjust marketing plan, defuse major risks, and promote institution reform to make sure that all KPIs can be achieved.
No goals will be easily achieved, and the way forward will never be smooth. We still need to stay tenacious like a bamboo deeply rooted in the rocks, keep our feet on the ground, and work hard to turn the deployment into specific measures with a sound schedule. We should shoulder our responsibility, pursue active development and steadily march ahead towards the goals, regardless of potential difficulties we might face.
As one saying goes, "Success comes to those who share in one purpose." As long as we are pulling together for a consensus with concerted efforts, we will surely achieve impressive success. Every member of SIPC is remarkable! As we embark on this process of high-quality development, we sincerely hope that all employees will think like an entrepreneur, work with the attributes of the Chinese Ox—persevering and industrious–and succeed in an extraordinary result!
​