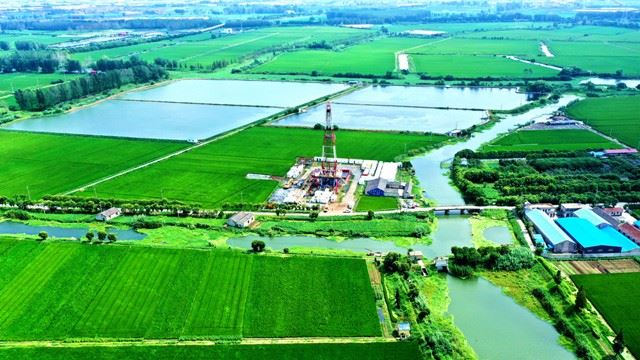 On July 20, 2020, the vision to "Forge a World-Leading Clean Energy Company" was put forward at SIPC's Mid-Year Conference, where we focus on planning for long-term development. The goal is to move forward with concerted efforts towards a new and higher stage of development. As a world-class industrial group and one of the top Fortune Global 500 companies, Sinopec aims high and pursues excellence. We aim not only to be among the world's first-class, but also to walk in the forefront of the global petroleum and petrochemical industry procession. "Clean Energy" is a profound revolution and a strategic move towards the bright future of the petrochemical industry.
Why Put Forward the Vision of Forging a World Leading Clean Energy Company?
Sinopec needs to keep up with the latest trends and take initiative in order to stay ahead of our competition and to achieve high quality development. At present, the world is undergoing great change with new and various risks and challenges emerging frequently.
The world economy is sluggish, and the global governance system and rules are being disrupted and restructured. Furthermore, the complexity of the situation is becoming increasingly severe, and the future of the world we live in is becoming even more unstable and uncertain.
From the perspective of industry development, the trend of acceleration in reform, adjustment, transformation and development is unprecedented. The energy revolution powered by new energy, new technology and new materials is pushing our society into a completely new energy system. Cleanliness, digitalization and diversification have become an irresistible trend of energy development and in some cases rigidly required. The energy and chemical industry has ushered in a period of accelerated strategic transformation; creating a highly competitive market.
Never before has Sinopec faced this level of urgency to develop an entirely new product. Speeding up the consolidation, supplement and reinforcement of the industrial chain to improve quality, increase efficiency and upgrade the industry to focus on clean energy sources has become the main tasks of Sinopec.
What are the Advantages of this New Vision?
Sinopec has accumulated rich experience in coping with changes in the practice of long-term development, which brings the following unique advantages:
1. Strong Risk-Resistant Ability in Business Operation.
2. Strong Ability to Rapidly Transform R&D Achievements in Science and Technology.
3. Strong Ability for Integration and Aggregation of Resource Elements in International Cooperation.
4. Inheritance of Rich Culture, Persevering Spirit and Petrochemical Traditional Style
5. Advantages in Talents, Management, Industry Scale, Network, Brand and so on.
All these capabilities and advantages work together to promote, amplify and complement each other to form a strong, comprehensive, and competitive advantage which can withstand pressure, overcome temporary difficulties, and create alignment in strategic development. 
What We Must Do
Forging a world leading company is like a relay race runner with huge challenge. We must seize the six "batons," which are described below. We must aim at our strategic target and remember our vision and mission—to give full play to our competitive advantages and capabilities, and resolve to take Sinopec into a world leading company, while fulfilling our obligations.
1. Focus on Corporate Governance — Improve the corporate governance system. Continue to embrace change, strengthen management, and build a corporate image of legal compliance, clean, efficient and focused on safety and the environment to improve performance and avoid risk.
2. Focus on Value Creation — Determine that all work and resources are focused on value creation. Ensure all resources are distributed in line with the principle of marketization. Build each industrial chain into an efficient one. Cultivate every unit into a point of profit growth. Train every employee to be a value creator. Ensure achievement of the strategic objectives of Sinopec; creating maximum value.
3. Focus on Comprehensive Innovation — Strengthen the combination of innovations between the industrial and value chains. Promote scientific and technological innovation, management innovation, product innovation and business model innovation. Form a development model under innovation guidance and support.
4. Focus on Green Energy — Actively develop and make environmentally friendly products. Promote clean fossil energy and clean energy on a large scale, and firmly move towards "net zero" emissions.
5. Focus on Cooperation — Actively cooperate to enhance the satisfaction of shareholders, customers, communities and other stakeholders to create mutual benefits and harmonious development.
6. Focus on Talent and Growth — Motivate staff to demonstrate their talents and make valuable contributions, so that striving for excellence in one's career will become the voluntary action of all employees.