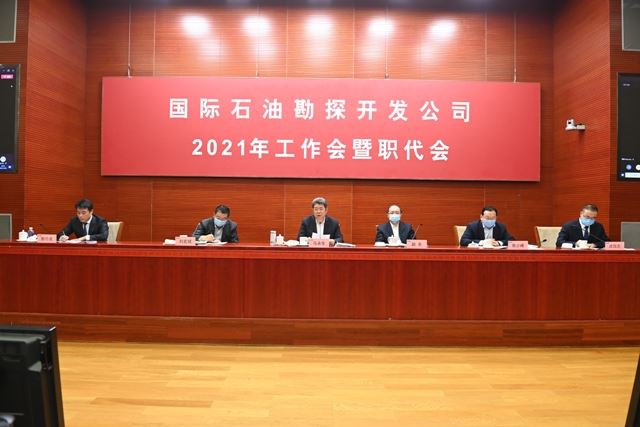 On January 22, the 2021 SIPC Conference was held in Beijing. Mr. Ma Yongsheng, President of Sinopec Group, Mr. Zhao Dong, Mr. Liu Hongbin, and Mr. Zhang Shaofeng, leaders of the Group, attended the conference and spoke with staff. Mr. Zhang Yuzhuo, Chairman of Sinopec Group, addressed all attendees by letter stressing that we must make greater contributions to build a world-leading clean energy company and ensure national energy security.
Mr. Zhang Yuzhuo pointed out that in 2020, SIPC made great efforts to overcome difficulties caused by the COVID-19 pandemic and plunging oil prices. We further deepened reform and management, strictly controlled major risks, achieved good results in production, operation, and risk mitigation.
Mr. Zhang Yuzhuo required that in this new stage of development, leadership and all Chinese and international employees of SIPC should be determined to play the role as the main force of international energy cooperation. It is necessary to focus on building a new industrial pattern, seize the opportunity and development window, make full use of the advantages of group integration, actively promote the optimization and restructure of asset portfolio, continuously mitigate historic capital risks, improve operation quality, promote safe and green development, and speed up the construction of large-scale and efficient oil and gas production. In 2021, it is necessary to ensure the further improvement of all assessment indicators. We should focus on breaking down obstacles in the way of development, take courage to deepen reform, standardize corporate governance, improve operations, optimize assessment and incentive. We must do a good job at talent training, stimulate vitality and motivation, and comprehensively improve the ability and level of international operation. We should spare no effort to prevent and control the COVID-19 pandemic, care for employees overseas, and ensure the stability and security of the SIPC team.
Mr. Ma Yongsheng required that we focus on high-quality development and play a greater role in the construction of "One Foundation, Two Wings and Three Growth Points" industrial pattern. SIPC is the main force of overseas upstream and undertakes the important responsibility of the "One Foundation." It is also focused on international cooperation of the new energy strategy. Efforts should be made to optimize the asset portfolio, dispose of inefficient, ineffective and high-risk assets, and solve development problems. Attention should be given to project cooperation; strengthen the ability to coordinate and cooperate directly with the governments of resource countries and energy companies, and strive to establish a larger circle of friends. Focus should be made to strengthen risk prevention and control, curb liabilities, reduce capital costs, be alert to operational risks, safety management, and constantly enhance the ability of international operation.
We should strive for better performance in the process of turning losses into profits. We must do a good job at production operation, work hard on optimization. Pay close attention to management efficiency, work hard on tapping potential and increasing profits. Ensure the goal of reducing both total cost and per barrel oil cost, and spare no effort to keep the ultimate goal of positive cash flow. We should make changes and work hard to improve efficiency, and optimize redundant units.
It is necessary to fully acknowledge the extreme importance of the current COVID-19 pandemic prevention, refine and perfect prevention and control objectives, programs and measures, resolutely protect the life and health of all employees, and make all efforts to ensure the orderly development of overseas business.
Mr. Guo Yueliang made a speech about the importance of making a concerted effort in development, overcoming difficulties and forging ahead on a new journey of the "14th Five Year Plan." Mr. Wu Hengzhi presided over the meeting and conveyed the spirit of the Annual Work Conference of Sinopec Group.
SIPC directors and supervisors, leaders of relevant departments of Sinopec Group, Petroleum Engineering Services Company, Petroleum Exploration and Production Research Institute and Unipec were invited to attend the conference. SIPC leaders, oversea project leaders, headquarters and overseas project representatives returning to Beijing attended the meeting at the main venue and branch venue respectively. Oversea leadership and representatives participated virtually.