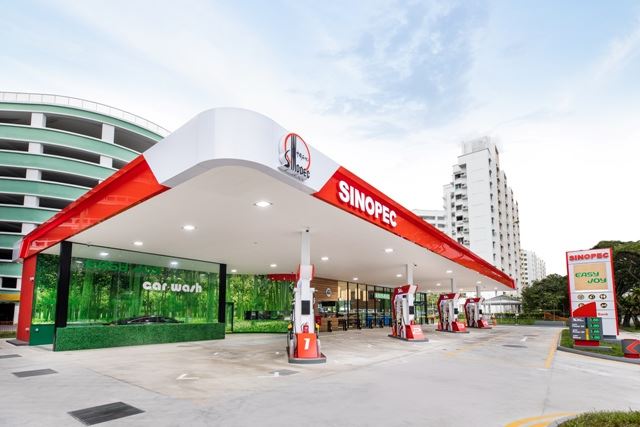 With a recognized brand value of 42.32 billion US dollars, Sinopec ranked first in China's energy and chemical industry in the "2020 China Brand Value Evaluation" released on "China Brand Day" on May 10. This not only reflects the social consciousness of the Sinopec brand, but also sets a new goal and injects new impetus to the Sinopec brand construction.
Sinopec will continue to further promote brand building to contribute to high-quality economic development by launching a brand awareness campaign to everyone and reflect the idea at every link of the production process and value creation chain.
Set Future-Oriented Goals with a Broader View for the Brand Strategy 
Sinopec should design and promote brand builing from a broader perspective and at a higher position, set accurately the direction of brand building, develop an effective brand implementation strategy while adhering to the quality orientation, customer first ethos, based on industry and take a global view to create a brand value of world leadership with international influence and competitiveness.
Sinopec has made its brand positioning clear in the construction of a world leading enterprise: Our growth pattern will be featured as one foundation of energy resources, two wings of clean energy and synthetic materials, and three growth points of new energy, new economy and new areas. We also advocate pursuing the value of "Better Energy for Better Living" and to fulfill the brand commitment of "Focus on sustainable development of the energy and chemical industry with innovation and responsibility, and jointly create and share a better life" to shine the reputable brand of Sinopec.
In order to demonstrate the brand value in promoting the sustainable development of our enterprise, business strategy plan and a brand strategy plan are both needed, so as to address the questions of long-term survival and sustainable competitiveness. With the advance of a new round of consumption upgrading, and differentiation, high-quality brand advantages are increasingly becoming the key elements in the competition for consumer loyalty. Therefore, Sinopec should have a strong brand marketing awareness, give full play to the leading role of our brand, turn brand advantage into a competitive advantage, and constantly raise brand value.
Guiding by Philosophy and Promoting Sinopec Brand Building with Scientific Mind
Since it was founded 37 years ago, Sinopec has been committed to providing cleaner energy and chemical products for a better life. From the national pillar to the civil livelihood, from traditional industries to emerging fields, from boosting economic and social development to international operations, Sinopec has always honored its brand commitment with its actions and responsibilities, and has always linked Sinopec's brand image closely with the creation and sharing of a better life for all.
The value concept is integrated into the whole process of production, operations and management, and embodied in the products and services. Finally brand goodwill is established through the customers' recognition. Taking the "Standard, Integrity, High Quality and Sufficient Quantity" as philosophy, Sinopec's refined oil product sales have won customers' trust for many years. In international operations, Sinopec attaches great importance to the building of soft power such as business philosophy, brand image and social responsibility, steadily cultivates a brand with international competitiveness, so as to coordinate the development of hard power and soft power and promote mutual progress.
Brand building and business development are complementary and mutually promoting. Brand building should be combined with the core business and product characteristics to explore, how to integrate and achieve synergy between brand building and the design, R&D, production, marketing, service and other aspects, thus giving rise to synergistic effects. Furthermore, the formation of brand value is the combination of brand investment effects and customer's brand recognition, which requires value return. Over the years, Sinopec Lubricant Company has integrated brand building into the whole process of production and operations, and its brand image of "Delivers Outstanding Aerospace Level-of-Protection" has been deeply embedded into the hearts of the public, and has become the leading brand in China's lubricating oil industry.
Build a World Leading Brand with Excellent Actions
Brand building while adhering to the original aspirations, should be rooted in reality through careful assessment of customer reactions and acceptance of market test results with appropriate action, in order to win the recognition and loyalty of customers.
Sinopec has always adhered to the policy of "Revitalize the Petrochemicals by Advancing Science and Technology" and implemented an innovation driven development strategy. It has established a relatively perfect scientific and technological innovation system, mastered the unique oil and gas exploration and development technology, and the whole process technology of oil refining and the main technology of the petrochemical industry. The industrialization of the secondary aromatic hydrocarbon technology and the development of million-ton ethylene technology have ranked at the world's first-class level. It is only because of continuous innovation that the Sinopec brand value has been continuously improved.
Sinopec operations are always in line with the philosophy of "Quality Is Always One Step Ahead" and "Every Drop of Oil Is a Commitment." Sinopec is customer-oriented, constantly strengthening the management and delivering the core values to customers through excellent product and service quality. Sinopec has always shouldered the mission to promote economic development, revitalize the petrochemical industry, ensure energy supply and improve people's lives, thus actively fulfilling its economic and social responsibilities. In the "Leading Index of Corporate Social Responsibility in China" published by the People's Daily in 2020, Sinopec ranked second among Chinese enterprises, and its series of public welfare projects provides genuine assistance to tens of millions of poor people in China. In the first overseas social responsibility demonstration base built by Sinopec in Saudi Arabia, "responsibility" has become the key word of the Sinopec brand.
Sinopec has been enhancing its value recognition by "Creating Value for Shareholders, Customers, Business Partners and Society, and Harmonizing with Ecological Environment." It has been implementing a green business action plan, aiming at driving the integrated development of the tangible economy with the digital economy, and set up the "Sinopec Open Day." In international operations, the company abides by the laws and regulations of host countries, respects multicultural differences, actively protects the ecological environment, and cooperates with local people to build and share a better life, which highlights the good image of Sinopec as a world corporate citizenship.
With a new beginning, Sinopec will accelerate brand building, improve brand value and influence, and promote the company to achieve higher quality and more efficient development.